CD-101
                              Secrets Of Successful Christian Living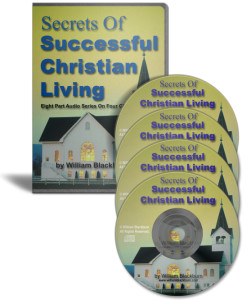 Sermons For Christian Growth And Revival.
Eight Part Audio Series On Four CDs
Price – $30 with FREE Shipping  Debit/Credit or Paypal

Album Includes These 8 Sermons:
1. How To Be A 100% Christian
(Hebrews 6:1-3) When a person gets "born again" it is not the end of salvation. It is the beginning of salvation. God wants the Christian to grow in grace and knowledge. He wants each believer to be conformed to the image of Christ. What does that mean and how do you accomplish it? William addresses the issue of how every Christian can be all God wants him to be.
2. The Danger Of Secret Sin
(Joshua 7:1, 19-21) When a Christian allows sin to come into his life and he will not confess and repent, then it brings the judgment of God into his life. This is the story of Achan, who took of the accursed thing and hid it in his tent. It brought defeat and failure, hindered prayers, and hurt to his loved ones. Every Christian should understand how God sees sin and how He will judge it. William highlights the Power, the Progress and the Punishment of Secret Sin. It's an eye opener.
3. Five Sins Satan Uses To Destroy Christians
(Revelation 2:1-3, 12-13, 18-19, 3: 1-2, 14-16) Most Christian live defeated lives. It doesn't have to be that way. Jesus said, "I've come that you might have life and have it more abundantly". The problem lies in understanding sin in the life of a Christian. In the book of Revelation, the Apostle John writes seven letters to seven churches. In five of these letters, the message is, "you have sin in your life – Repent". In these five letters we see the sins that Satan uses to destroy Christians.
4. Are You A Backslider?
(Hosea 4:16, 11:7, 14:4) In this message, William illustrates what backsliding is and is not. He deals with the characteristics and causes of backsliding. Using stories of backsliding from the Bible, William shows how devastating it is to be a backslider. But, praise God, he also shows how to overcome backsliding and return to God.
5. God's Plan For The Family
(Matthew 7:24-27) There are two kinds of families: those based on temporal things and those based on the Word of God. One is destined to success and the other to failure. If ever a message was needed today, it is this one. The divorce rate is at an all time high and morally is at an all time low. Families have been turned upside down. William lays out how you can build your family on the solid rock and be successful. He explains the Biblical role of the Father, Mother and Children.
6. Fire From Heaven Revival
(I Kings 18:1) This message is about Elijah calling fire down from heaven to demonstrate that he served the living and true God. It illustrates how Christians and Churches today should and can remove false and worldly things from their lives and bring the power of God back for the world to see. The message deals with the Enemies of Revival and the Elements of Revival. Every church in America needs to hear this message.
7. What Happens When A Christian Sins?
(Psalm 51: 1-10) These verses are David's prayer of repentance. It shows us what happens when a true believer allows sin in his life. Most Christians do not understand sin and how devastating it can be. This message helps believers see things the way God sees them. A Christian can not sin and get away with it. God will punish sin. Anyone who lives in sin and God does not punish is not truly a Child of God.
8. God or Gorilla? Where Did Man Come From?
(Genesis 1:1, 26) You are not an accident; you are not a mistake, and you did not evolve from a monkey. You were created by the plan of God and for the purpose of God. This entertaining and educational message will inspire you with the power and majesty of Almighty God. The facts of history, science and the human body show the hand of God. You will want to stand and praise God.
Get "Secrets To Successful Christian Living" Today!
Secrets Of Successful Christian Living
Eight Part Audio Series On Four CDs
$30.00 with FREE Shipping!
You Can Use Debit/Credit Card or Paypal.