Posted on 11. May, 2013 by Williiam in Salvation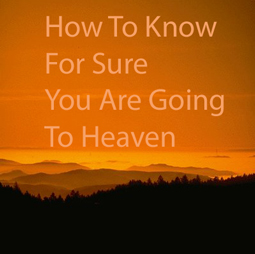 What Is God's Salvation Test? Can a person know for sure they are going to heaven? The answer is an emphatic yes! God wants you to be saved and know it. The problem is, many think they are going to heaven based on their personal or religious beliefs rather than the Word of God. This is a tragic mistake.
I believe the saddest words Jesus ever spoke are found in Matthew 7:21-23.
The Bible says, 21 "Not every one that saith unto me, Lord, Lord, shall enter into the kingdom of heaven; but he that doeth the will of my Father which is in heaven.
22 Many will say to me in that day, Lord, Lord, have we not prophesied in thy name? and in thy name have cast out devils? and in thy name done many wonderful works?
23 And then will I profess unto them, I never knew you: depart from me, ye that work iniquity."
Religious But Lost. What a shock! These religious people stand before God, and don't even know they are lost, until Jesus tells them. They have been deceived. They believe in God but don't have a Biblical salvation. The only way to prevent this tragedy is to test your salvation according to the Bible.
Examine Yourselves. The Bible says, "Examine yourself, whether ye be in the faith" and "brethren, make your calling and election sure." How do you do that? How do you examine your salvation to see if it is real? How can you know for sure you are going to heaven? There is only one way to be sure.
God Gives A Salvation Test In The Bible. You can take this Biblical test and know for sure, if you are truly saved or not. Each professing Christian should take their testimony and experience with God and lay them on the Bible. If our testimony and our experiences match what the Bible says, then we know we have true salvation. If our testimony and experiences do not match the Bible, we can know we do not have the kind of salvation that will get us into heaven.
God Is The Author Of Salvation. Salvation is what God says it is; not what you or I say it is. The Bible presents the evidence of true salvation and the marks of a true believer. Only those who have Biblical evidence of salvation and the marks of a true believer, will go to heaven.
God's Salvation Test Is Found In The Epistle Of First John. There are Seven Questions each of us must ask ourselves. The answers to these questions will confirm whether or not, we truly know God and are going to heaven. If you can not pass The Salvation Test, then you do not have true salvation.
Take the Salvation Test.
(1) Do You Obey The Word Of God?
(1 John 2:3-4) "And hereby we do know that we know Him, if we keep His commandments. He that saith, I know Him, and keepeth not His commandments, is a liar, and the truth is not in him".
These verses are not teaching that you are saved by keeping the commandments. We are saved by Grace through Faith in Christ. But, when a person is truly saved, they receive the indwelling Holy Spirit. This changes our lives. The Holy Spirit wrote the Bible which is God's direction for Christian living. The Holy Spirit within us will draw and compel a Christian to obey the Bible.
In fact, the Bible says, "But be ye doers of the word, and not hearers only, deceiving your own selves." This means a person who claims to believe in God but does not obey what God has commanded, has deceived themselves. They don't believe at all.  You do what you believe.
(2) Do You Love God Or The World?
(1 John 2:15) "Love not the world, neither the things that are in the world. If any man love the world, the love of the father is not in him".
Which do you love most: The things of the world or the things of God? How do you spend your money, time and energy? Where is your heart? The Bible says, "Thou shalt love the Lord thy God with all thy heart, and with all thy soul, and with all thy mind. This is the first and great commandment." What you love most is the God of your life. The Bible says, "you can not serve two masters, you will love one and hate the other."
(3) Were You Changed In Your Character Since You Believed?    
(1 John 2:29) "If ye know that He is righteous, ye know that everyone that doeth righteousness is born of Him".
Righteousness means living right according to God's standard. Before salvation a man is living in total darkness. He is an enemy of God. He is going away from God with his life. When he becomes a Christian, he comes into the light of the truth. He becomes a friend of God. He begins to go toward the things of God with his life. It is a 180 degree turn.
If you are truly saved, you will be living your life in accordance with the Bible. "Therefore if any man be in Christ, he is a new creature: old things are passed away; behold, all things are become new." 2 Corinthians 5:17
A true Christian has been changed in his character, morals and worldly outlook. Were you changed?
(4) What Is Your Attitude Toward Sin?
(1 John 3:9) "Whosoever is born of God doeth not commit sin: for His seed remaineth in him because he is born of God".
This verse means a Christian will not live in sin nor practice sin. It does not mean a Christian will never sin. We all sin but it is our attitude toward sin that tells who we really are. A real Christian hates sin and when he falls into sin, he wants to get out as soon as possible. He' striving to stay away from sin not to be saved but because he is saved and loves God.
A Christian may lapse into sin but he doesn't leap into sin like he did before salvation. A Christian's desire is to live holy and godly.
(5) Do You Love The Brethren?
(1 John 3:14) "We know that we have passed from death unto life, because we love the brethren. He that loveth not his brother abideth in death".
Do you know mean and hateful church members? This verse says a true christian will love the brethren. The word love is the word "agape" which means a sacrificial love. It means loving others as you love yourself. "Agape" means desiring the best for others.
(6) Does The Holy Spirit Live In You?
(1 John 4:13) "Hereby we know that we dwell in Him and He in us, because He hath given us of His spirit".
The proof of the Holy Spirit in you is not the gifts of the spirit but rather the "fruit of the spirit". (Galatians 5:22-23) "But the fruit of the Spirit is love, joy, peace, longsuffering, gentleness, goodness, faith, Meekness, temperance: against such there is no law."
(7) Have You Truly Believed On The Lord Jesus Christ?
(1 John 5:13) "These things have I written unto you that believe on the name of the Son of God; that ye may know that ye have eternal life, and that ye may believe on the name of the Son of God".
The word believe is the greek word "pisteuo". This means to believe not only with your head but with your heart. It involves three things:
a) Turn From Your Sins.
"except ye repent, ye shall all likewise perish." Luke 13:3
b) Leave Your Idols Behind.
"For thou shalt worship no other god: for the Lord, whose name is Jealous, is a jealous God:" Exodus 34:14
c) Surrender To The Lordship Of Jesus Christ.
Lord, means to be your God, boss, master and owner. It is all or nothing with Jesus! Nowhere in the Bible does it teach you can take a piece of Jesus and be saved. It is "The Lord Jesus Christ".
"And they said, Believe on the Lord Jesus Christ, and thou shalt be saved, and thy house." Acts 16:31
"Therefore let all the house of Israel know assuredly, that God hath made the same Jesus, whom ye have crucified, both Lord and Christ." Acts 2:36
Did You Pass The Salvation Test?
"How shall we escape, if we neglect so great salvation; which at the first began to be spoken by the Lord, and was confirmed unto us by them that heard him;"  Hebrews 2:3
SUBSCRIBE to our YouTube Channel.  Receive additional videos, FREE products and Ministry updates. Click on the YouTube button.
Share This Post With Your Friends